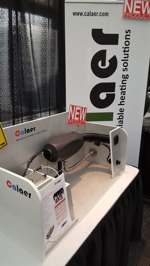 Now marine customers in Canada can get an easy to install, efficient and reliable air heater to extend their season at a reasonable cost.

During the Paynes's Marine Groups 31:st annual trade show in Victoria, BC, Canada, the Calaer Air Heaters were launched to the Canadien marine market. Payne's is a nationwide wholesale distributor and agent supplying to dealers and manufacturers.

The Calaer was well recieved and got a lot of attention. The visitors had the possibillity to get a overview of the product and the included marine kit, as well as test run the unit to experience how easy it is to operate.